In Gratitude
Literary dedications and responses to the New Year message
On the occasion of the New Year 2014, the following message was sent to friends in Jahan's memory:
11
Dear All,
The year draws to a close and as Chapter 2013 embosses its vignette, it draws a blank in the uncertainty of the pages that are turned by the gentle breeze of time. There, we trace our destiny in the shading of the black ink that kisses the white papyrus. Absorbed in the contrast of colors left behind in the footprint of the inkblot, we lose sight of how we are written in them.
As we say farewell to the 'dreaded thirteen' with a heavy heart, we would like to express our appreciation and gratitude, one more time, to family, friends, and foreigners who out of the goodness of their hearts embraced us in our sorrow and stood by us to lighten the weight of the emotional burden that had befallen our family. Through it we felt the strength of your friendship, we sensed the soothing of your sympathy, and we were deeply touched by your unfading compassion. More importantly, I personally gained an insight that Jahan who is my world has somehow become our world. Leading us to a wisdom that our being is not confined to the boundary of our skin, but lives beyond the limitations of our perception if we only set free the Divine potential within to realize how alien 'otherness' is to our human nature.
Let's hope that in the year and years to come our humanity soars to a higher plane of reality tapping into the spiritual potential to reach beyond the stars.
May your star shine brightly on the un-trodden paths of many tomorrows,
Zaman Stanizai and family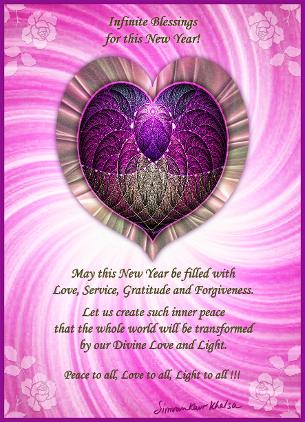 This beautiful New Year greeting design was shared by SimranKaur Khalsa.
Thank you Simran
Following is a sampling of the literary dedications and responses to the New Year message that we like to share with you.
Dear Brother Stanizai,
I cannot put it better than your beautiful words, "Let's hope that in the year and years to come our humanity soars to a higher plane of reality tapping into the spiritual potential to reach beyond the stars. May your star shine brightly on the un-trodden paths of many tomorrows."
We all wish for you and all Afghan families in Afghanistan and outside, health, happiness and prosperity and especially for the Afghan Nation after blood letting of 35 years, with Almighty's help to see the dawn of national unity fostered by peace and security in the coming 2014 and thereafter. Amen.
Your Afghan brother,
Prof Zikria & Family
Dear Dr. Saheb e Mohtaram,
Thank you for including me in your profound message. I wish you and your loved ones a healthy, joyous and prosperous 2014. Khudawand e buzurg shomaa raa sabr bedehad. May your beautiful wife's soul rest in peace and may you find solace and comfort in knowing you have an angel watching over you. I have a poem a dear friend passed on to me when I was facing some difficult challenges in life as well and want to share it with you:
"Letter from Heaven"
To my dearest family, some things Id like to say. But first of all, to let you know, that I arrived okay. I'm writing this from heaven. Here I dwell with God above. Here, theres no more tears of sadness; Here is just eternal love.
Please do not be unhappy just because I'm out of sight. Remember that I am with you every morning, noon and night. That day I had to leave you when my life on earth was through. God picked me up and hugged me and He said, I welcome you. Its good to have you back again, you were missed while you were gone. As for your dearest family, They'll be here later on.
I need you here so badly, you are part of my plan. There is so much that we can do, to help our mortal man. God gave me a list of things, that he wished for me to do. And foremost on the list, was to watch and care for you. And when you lie in bed at night the days chores put to flight. God and I are closest to you....in the middle of the night.
When you think of my life on earth, and all those loving years. Because you are only human, they are bound to bring you tears. But do not be afraid to cry; it does relieve the pain. Remember there would be no flowers, unless there was some rain. I wish that I could tell you all that God has planned. If I were to tell you, you wouldn't understand.
But one thing is for certain, though my life on earth is over. I'm closer to you now, than I ever was before. There are rocky roads ahead of you and many hills to climb; But together we can do it by taking one day at a time. It was always my philosophy and Id like it for you too; That as you give unto the world, the world will give to you.
If you can help somebody who is in sorrow and pain; Then you can say to God at night....My day was not in vain. And now I am contented... that my life was worthwhile. Knowing as I passed along the way I made somebody smile. So if you meet somebody who is sad and feeling low; Just lend a hand to pick them up, as on your way you go.
When you're walking down the street and you've got me on your mind; I'm walking in your footsteps only half a step behind. And when its time for you to go...from that body to be free. Remember you're not going...you're coming here to me.
I apologize if you have already seen this poem. I wish you all the best always.
Kind Regards,
Mariam Barakzoy
Thank you Zaman. I will always remember Jahan with fondness. Your poetry is so beautiful. May your inspiration grow through this new spiritual dimension that Jahan is now a part. A little word about the number 13: our daughter was born 13 days before her due date on the 26 th of the 10th month. Her birth mother was 31 years of age. Her birth wght.was 6lbs1/2 oz. The hospital was at 1300 N. Vermont Ave. She was born.at 9:13 pm, the 13 th grandchild of her maternal grandparents. One of Her great grandfathers was also born on Oct. 13 th. There are more happy 13s in her life. I hope these few will help you think of 13 as a very special number. Happy new year to you and yours. In friendship, Julie
How beautiful, Zaman. I hold you and your family in my prayers. I am sure it must be very meaningful to see how Jahan was held in the hearts of so many.
May you be blessed in the way the One, knows best,
Noor-Malika
Bless you all, Zaman. I hold you in my prayers and in my heart. I am sending you a poem I wrote when my dear friend's daughter died far too young. It was for Jodie, but I believe it resonates with the love that surrounded the incredible Jahan, your world, and our world.
Much love to you and yours always,
Katherine
PRESENCE
How does the hand slip from our hand— the hand formed in miniature perfection inside her mother—the hand her father held, wrapping his large, warm one around its colder smallness? It was cupped as he walked her down the aisle of a holy place and gave it to a man who waited for it, holding his breath until the last minute. And when, this year, it slipped away—from children, brothers, mother, lover, and father—it was still there … like the hand once pressed onto a wet sidewalk of new cement, a handprint on each heart— in mud, in stone, in shining, chiseled diamond, still there, right now … still here.
Katherine Lansing Davis
Very eloquently stated. I commend you for your superb penmanship and I thank you for sharing your thoughts.
Regards and be your best.
Ahmad-Shah Duranai, B.Arch., MBA, OAA, BTC
Author, Speaker, Coach, Architect and Facilitator
Thank you Zaman for this beautiful letter to your friends and family.
Jahan is still in our thoughts, leaving an indelible memory.
May 2014 allow you to soar to great heights, leaving in your path the gift of love and light.
Infinite Blessings,
SimranKaur
Dearest Zaman, My heart goes out to you in this time of deep mourning, deep reflection, and renewal of spirit. As I read your intro paragraph to this email, I am reminded of how often I coaxed you during our class to share "And then the housekeeper knocked!"...I was delighted then and now to get a chance to read your deeply beautiful prose and poetry.
As I prepare for giving a talk on Dante and his relationship to Beatrice, I read your words in his and his in yours of the depth of connection that you were blessed with in your dear wife and in the wondrousness of your continued connection with her in the universe.
My words aren't now, nor have they ever been, as exquisitely elegant as yours...but, I hope that my note to you expresses that although we are 3000 miles apart, you and your family are very much in my heart.
Sending you deep healing in this new year, Carol
(Carol L. Rizzolo, PhD)
Dear Zaman,
Thank you for your uplifting thoughts. I know that the loss this year of your remarkable Jahan is a great one - and I wish you the consolation of remembering all the wonderful things that she did and the spirit and intellect she represented.
Be Well,
Eric Vollmer
Dear Zaman;
Ostaad, well said and written as always. Thank you
We are all members of the same body and are not separated. We are all of love and hence love and love is endless and endless is infinite in numbers.
Therefore we are and we are not. Therefore death is a change of state for love never dies.
Yet memories always remain and the written goodness of love on the tablet of life never vanish. And that is the purpose of life.
May the new year brings you and your family health, wealth, strength out of the goodness of you and yours.
Happy New Year
Mehrdad
_________________________________________________
Zaman and family,
Moving into the new year, I can assure you that the hope you hold in your heart is real.
I believe that our loved ones that have passed from this reality are only a dimension or two away.
They will return. We will begin to greet them as our dimensions unite in the higher frequency
that was intended for humankind as its birthright, and we slip away from the darkness of "otherness."
Separation of body and soul will be no more.
Thank you for the lovely gift of your beautiful poetry that mirrors the eternal radiance in your souls!
Laurie
That is beautiful Zaman.
God bless.
In Peace,
Eba Hathout
Hi Zaman,
What beautiful sentiments to recap 2013 and prepare us all for 2014! The world calls us to be busy and productive but that which is truly essential and eternal reminds us to ponder and reflect.
In the blink of an eye we will all become cosmic dust and return to whence we came but in the meantime it is good to come together in good times and sad moments to remember and celebrate our shared humanity and divinity.
Blessings always to you and your family,
Carolyn and family
Dr. Stanizai,
Thanks for your New Year's message. I'm so sorry about the passing of your wife and know this past year must have been very hard for you and your family. Although I never met her, I remember seeing the two of you together at one of our Pacifica dinners several years ago. I'm hoping that 2014 will be a happier year for you (and for all of us).
Sincerely,
Mary Hackworth
Grana Stanizai sahib: Us-salamu-alaikum
Thank you for sharing this great message and I wish peace and tranquility for your heart and soul as you accept the facts of life as it is for all of us the same. I read your comments with great interest on different issues related to Afghanistan and beyond.
Best wishes always and have a great day
Zarjon
(Prof. Zarjon Baha)
Salams, Zaman,
Thank you for including me in your email.
Your words were very meaningful and spiritual.
I will read them again in the days ahead.
All the best to you and your family in the New Year.
We will keep Jahan in our hearts and prayers.
Jane El Farra
------------------------------------------------------------------------------------
Dear and respected Zaman jan, the worthy scholar and human being,
Thank you for the links and information above !
However, what truly touched my heart and made me ponder on life and death in a very special way (as I was experiencing the for-ever-nessof human connections), were the posting about the beautiful and amazing individual -- Jahan jan Stanizai and your spoken words on that certain day -- the celebration of who she was, is, and will be! I shall cherish the awareness of existence of such fantastic individuals !
Wishing you and your amazing family the beauty of life and beyond now and for ever after.
Warm regards,
Donia
"

Every moment is the choice between right and wrong.
"Donia Gobar